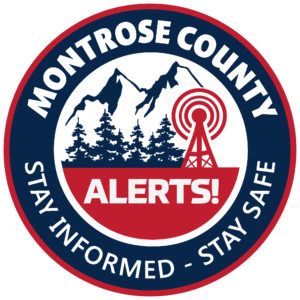 Montrose, COLO.— Montrose County Sheriff's Office proudly releases a new emergency notification system called Montrose County Alerts, powered by Genasys Emergency Management. Emergency alerts are a critical emergency management communication tool used by local first responders to share public safety alerts.
"This new emergency alert system is easy to use—from a dedicated app to the ability to add multiple addresses to bilingual resources—this system is designed to deliver fast, accurate public safety alerts for our community," said Montrose County Director of Emergency Management, Scott Hawkins. "This system can be used to provide notifications during wildfire evacuations, domestic water boil orders, major road closures, missing persons and more. It's a key tool for emergency communications."
The system will be used throughout Montrose County by first responder agencies. Montrose County Alerts will allow first responders to send emergency notifications to specific geographic areas of the county. Residents who live near county borders are encouraged to sign up for the alert system in the county in which they reside as well as nearby counties to receive the most accurate information. Montrose County Alerts replaces the previous emergency notification system known as CodeRed.
All residents, business owners, and visitors are encouraged to sign-up for notification before an emergency happens. Registration is free and takes only a few minutes. To sign up, visit https://montrose.genasys.com/portal/en or text "montrosecounty" to 65513. Residents are encouraged to sign up with their cell phone or email address to avoid conflicts with the 911 land line data imported into the system from 911 records. It is important for residents to include their address as well so that targeted alerts are delivered accurately. Even if you previously registered with CodeRED or if you only have a land line, we still need all residents, property owners, and business owners in Montrose County to sign up for the new system and enter their current contact information.
To learn more about the Montrose County Alerts notification system, review a list of frequently asked questions and sign up, visit the Montrose County Alerts website at https://montrosecountysheriffsoffice.com/montrose-alerts/. For additional questions or assistance in registration, please call the Montrose County Emergency Management at 970-252-4043. County Emergency Notification System Links for other West All-Hazard Region counties:
Montrose County: https://montrose.genasys.com/portal/en
Gunnison County: https://gunnison.genasys.com/portal/en
Ouray County: https://ouray.genasys.com/portal/en
San Miguel County: https://sanmiguel.genasys.com/portal/en
Hinsdale County: https://hinsdale.genasys.com/portal/en