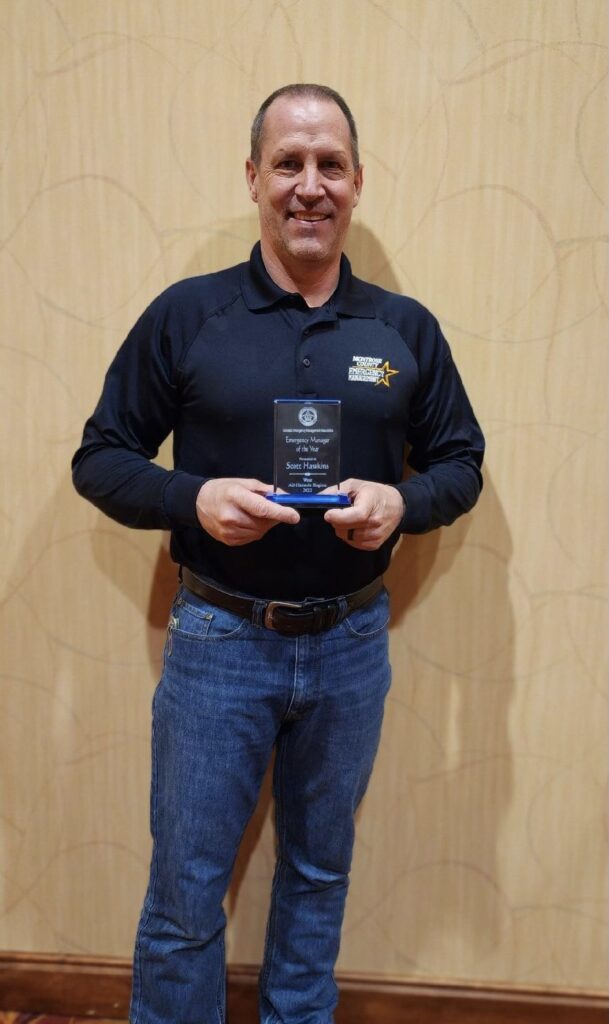 Montrose, COLO.—The Montrose County Sheriff's Office is proud to announce that Scott Hawkins received the West Region Emergency Manager of the Year for 2022. Hawkins received this award at the recent Colorado Emergency Management Association annual banquet.
"What an honor, our Emergency Manager Scott Hawkins is constantly working to improve the safety and welfare for all residents in Montrose County," said Sheriff Gene Lillard. "His contacts have helped the county in several situations. He helped obtain a fixed wing aircraft and helicopter from the Front Range in just a day's notice for search and rescue efforts. Scott also applied and received his certification to be a part of the Montrose County Sheriff's Office High Altitude Dive Team. As Sheriff of Montrose County, I am very proud of Scott Hawkins and his accomplishments."
There are nine Regional-All Hazard Comprehensive Emergency Manager awards given each year (one to each region) by the Colorado Emergency Management Association. The award is based on the following criteria: career achievement, overall contribution, local/regional coordination, specialized projects, or proven leadership in the field of comprehensive emergency management.
Hawkins was a tremendous asset during the 2022 Simm's Mesa Fire, where he took the lead for both Montrose County's and Ouray County's emergency management response. Ouray County's emergency manager was out of the country at the time and Hawkins filled-in and worked to help evacuate residents, coordinate response efforts, and liaise with federal partners.
He also led the switch to a new emergency notification system from CodeRed to Genasys for the entire region. This six-month process involved interviewing several different vendors, coordinating with stakeholders in the region, and managing the data transfer to the new program. The new emergency notification system will provide more timely and comprehensive notifications to community members in emergencies.
Hawkins was also successful in obtaining several grants in 2022. These grants helped purchase the following items: eight new license plate readers for the sheriff's office, a fire truck for Nucla/Naturita Fire, side-by-side for the Nucla/Naturita Fire, a drone to be used throughout the Seventh Judicial District, and a FEMA grant to update the expiring Montrose County Hazard Mitigation Plan.
Another major accomplishment in 2022 is the update to the Community Wildfire Protection Plan. The current plan is over a decade old. The majority of the update is complete and the plan will be finalized in 2023. This plan is critical as it identifies and prioritizes areas for hazardous fuel reduction treatments, wildfire response, community preparedness, and more.
For more information about Montrose County Emergency Management, please visit montrosecountysheriffsoffice.com.