EVACUATION INFORMATION ONLY
Up to date fire information can be found at www.westslopefireinfo.com
Red Cross Evacuation Information https://cowyredcrossblog.org/simms-fire/
Ouray County https://ouraycountyco.gov/
5/20/22 6:30pm Evacuation Lifted For All Except Those in the Wildcat Drainage
The evacuation orders have been lifted for the Simms Fire for all residents *EXCEPT those along the Wildcat Drainage area. Residents in the closed area are not able to return. Updated fire information is available at westslopefireinfo.com. If you have questions, please call the Public Information Line at 970-765-7309.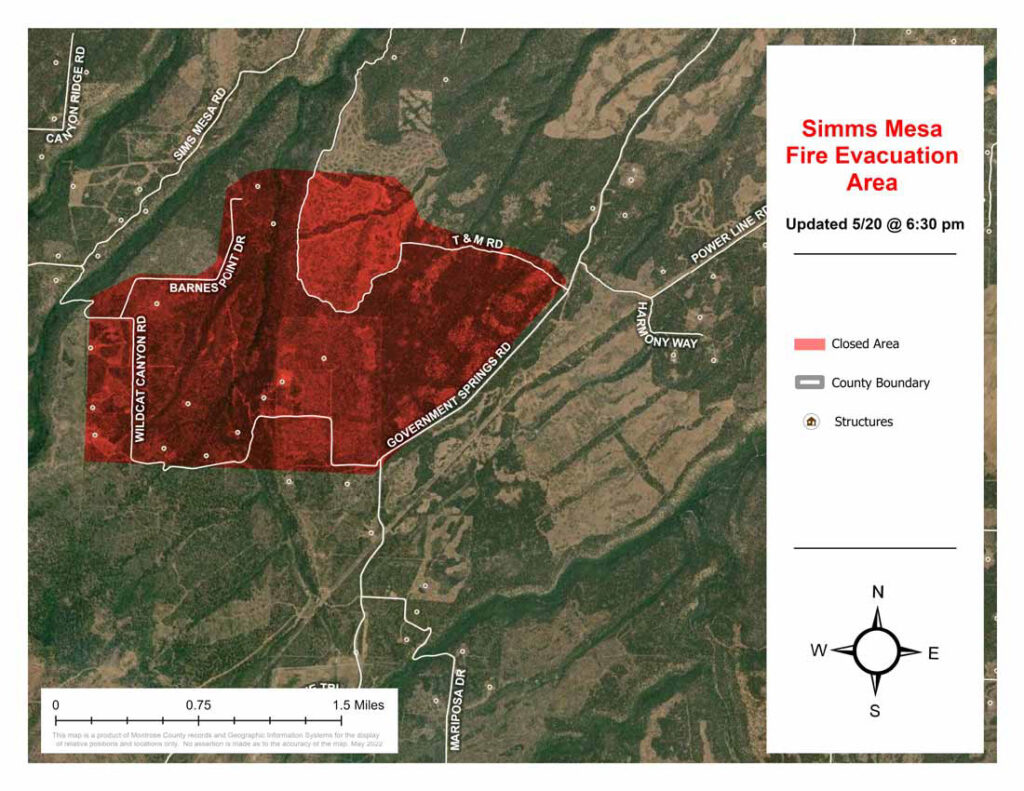 5/20/22 12:15pm Ridgway Secondary School Evacuation Center Closes to Lack of Use
Due to lack of use, the Ridgway Secondary School Evacuation Center has closed, however it can be reopened if public assistance is needed. If you need assistance with evacuation, please call the public information line at (970) 765-7309.
5/20/22 9:30am Evacuation Order Still Stands
For residents in the area: The evacuation order still stands. If you need assistance with lodging, livestock or anything else related to evacuation, please call (970) 252-4545.
5/19/22 8:15pm Evacuation Center at Ridgway Secondary School
An evacuation center has been opened at Ridgway Secondary School for those who have been evacuated due to the #SimmsFire.  The address is 1200 Green Street Ridgway, CO.
5/19/22 6:35pm EVACUATION NOTICE
Any individuals that reside between Simms Mesa Rd, Government Springs Road as well as Wild Cat Canyon, EVACUATE IMMEDIATELY. The evacuation area is a 5 mile radius of the pin on the map. Coordinates are 38.2763, -107.9271.