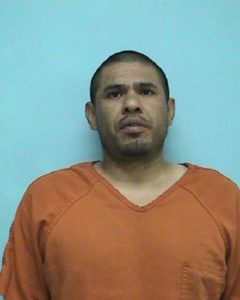 On the morning of June 18, a deputy with the Montrose County Sheriff's Office (MCSO) attempted to contact Victor Aguayo, 35-year-old male of Montrose, on an outstanding arrest warrant in the 600 block of Spring Creek Road. Aguayo was walking down the street and the deputy issued a verbal command to "stop."
Aguayo took off running from the deputy and ran to a neighboring property. The deputy gave chase and was able to catch up to Aguayo, at which time Aguayo continued to resist arrest. The deputy was able to detain Aguayo and place him in custody. Aguayo was found to be in possession of approximately 13 grams of suspected methamphetamine, brass knuckles, ammunition, and an assisted-opening knife.
Aguayo was booked into the Montrose County Jail and charged with distribution of a controlled substance, possession of a controlled substance, possession of a weapon by a previous offender, possession of an illegal weapon, protection order violation, resisting arrest, and on a warrant for a parole violation. Aguayo is being held at the Montrose County Jail on a $30,000 bond.
To sign-up for additional news from the MCSO, please visit montrosecountysheriffsoffice.com.