Report Flooding
Report flooding to non-emergency dispatch at (970) 249-9110
sandbag filling locations
East End
Montrose
Empty lot on the southwest corner of Park Avenue and the San Juan Bypass across from the City Public Works Shop

Olathe
Montrose County Road and Bridge Shop (221 West 5th Olathe)

West End
Naturita Community Center (411 W. Second Ave, Naturita)
IMportant Sandbag Info
Montrose County Flood News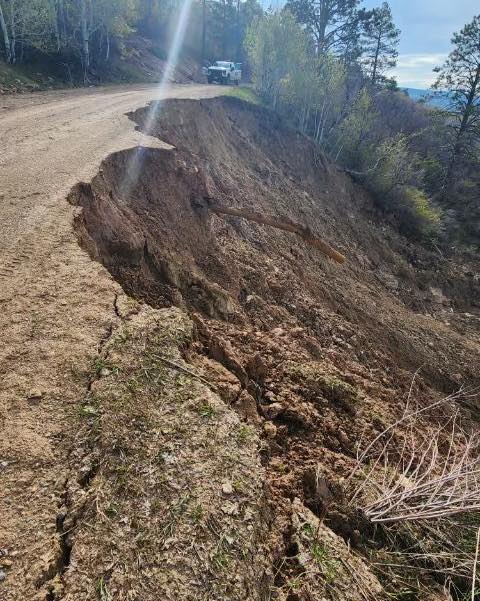 ⚠️ ROAD CLOSURE ⚠️Copper King Road in the West End is closed until further notice.
prepare for flooding before it happens
The record snowfall in the mountains this winter is beginning to melt. Spring runoff will cause streams and rivers to swell. Montrose County will see peak runoff in April and May. Now is the time to take action, prepare your property, and mitigate against spring flooding.
Be Informed
Sign up for flood safety alerts. Subscribe to news updates and social media alerts. Register for Montrose County Alerts here: https://montrosecountysheriffsoffice.com/montrose-alerts/
Make a plan
Develop a family safety plan – do your kids know how to get to high ground if flooding occurs? Are there roads near your home that could flood and trap you? Do you have extra medicine, food, water, and supplies if you have to stay at home? If you have to evacuate, how will you protect your pets and livestock?
Build a Kit
Prepare a Flood Emergency Kit by gathering necessary items like a first aid kit, non-perishable food to last several days, a can opener, water, radio, batteries, flashlights, medications, copies of essential documents, cash personal hygiene items, extra clothing and blankets, pet food and supplies, emergency phone numbers, cell phone and chargers. For more information about creating an emergency go kit, visit ready.gov/floods.